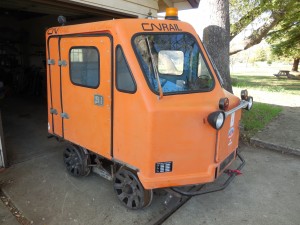 After railroads retired their speeders starting in the mid-1980s, many were purchased by railroad buffs and the motorcar hobby was born. It almost goes without saying that the motorcar hobby is fairly unique. Not only do you have to track down and acquire a motorcar, but you must receive permission from a railroad to operate you motorcar. The safest and easiest way to get into the hobby is to join NARACOA – the North American Railcar Operators Association.
*Never attempt to use a rail vehicle on railroad property without proper permission and training.*
After purchasing our speeder, we joined NARCOA. Currently the cost is $36/year. Membership in NARCOA gives you the ability to obtain an operator certification card, sign up for a special motorcar insurance policy (additional premium cost), receive information regarding upcoming excursions and most importantly, have a network of people to enjoy the hobby with. Fellow NARCOA members are also eager to provide you with a wealth of information about the hobby. Supporting NARCOA are numerous regional affiliates that plan and carry out motorcar excursions.
Once we signed up, a NARCOA rule book, blank test and insurance information arrived in the mail. After reviewing the rule book, we took the operator's test and mailed it in, along with the paperwork and a check for speeder insurance. My operator certification card and insurance paperwork arrived at our home a short time later and we were almost ready to hit the rails! Visit the NARCOA document repository to access up-to-date information regarding test taking, insurance and more.

To briefly recap, to this point we had:
Bought a speeder

Joined NARCOA

Read the rule book and mailed in our completed test

Mailed in the completed insurance paperwork

Received an operators license in the mail

Received insurance coverage confirmation in the mail
We then began the process of preparing the speeder for our first excursion.
Before we were turned loose on an excursion, we were required to complete the mentoring process. The purpose of the mentoring process is to help new members become familiar with rules, safety and operating a motorcar. Our mentor signed off on our mentoring form once we demonstrated satisfactory knowledge of safe operations.
To better understand the reason people enjoy this hobby so much, watch this short movie starring the famous silent movie actor Buster Keaton called "The Railrodder." The video was produced in 1965 by the National Film Board in Canada and features coast-to-coast action of a Canadian National Railway motorcar. (View the movie on the NFB's official website.)