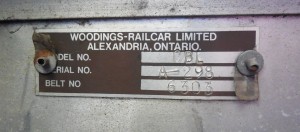 Canadian National Railway 176-12 is a model CBL motorcar built by Woodings Railcar Limited in Alexandria Ontario, Canada during the 1980s. According to the builder's plate on the pasenger's side of the engine compartment, its serial number is A-298 and its belt number is 6303.
In 1975, Railcar Company started in Lancaster, Ontario as one a handful of railroad motorcar manufacturers in Canada. Railcar bought out another manufacturer from Lindsay, Ontario Canada called Sylvester Steel, which produced motorcars as early as 1972. In 1981, Railcar Company was taken over by Woodings Railcar Limited. Woodings (and its predecessor Railcar) produced motorcars featuring fully enclosed cabs to protect railroad workers from the harsh Canadian winters. The two models produced were the CBI and CBL. The CBI is a smaller speeder which could transport two people and was intended for supervisors and inspection use. The CBL is a larger motorcar car which could easily transport at least four people. The CBL had a leaf spring suspension system to offer a more comfortable ride. Railcar/Woodings also produced a non-powered crew car capable of carrying 6 to 8 men.
In total, Railcar Company produced about 120 units and Woodings Railcar produced about 600 units. Woodings first delivered units in September 1981. Through the years, Woodings grew unevenly. At one time, up to 40 men were employed at its Alexandria plant.  The plant in Alexandria closed in 1988 and the entire Woodings company closed in May 1991.
Back in the spring of 2010, a friend of my father noticed this speeder for sale in the Santa Rosa, California area. A meeting was arranged with the owner and soon my dad beacame the proud owner of this speeder along with a towing trailer.
The CN Rail 176-12 has a 2,000 pound carrying capacity and weighs in at 1,540 pounds. It is 64 inches wide, 96 inches long and 83 inches in height.
The motorcar has a 18 horsepower air-cooled, single-cylinder, four-stroke, four-cycle horizontal Tecumseh gas engine (model OH180-180017C serial 5193E). Because it is a four-cycle engine there is no need for fuel and oil mixtures.
The speeder is equipped with left and right windshield wipers, horn, roof-mounted beacon/strobe, cab fan, dome light, front and rear facing headlights as well as front and rear facing brake lights to accommodate reverse running operations. 
The speeder has a pulley-based continuously variable transmission (CVT) featuring Forward, Neutral and Reverse. This means that there is no need to manually shift gears while moving – the speed is increased or decreased by using the throttle. The body and doors are fiberglass. It is equipped with a rear differential and drive shaft similar to that of an automobile. It has an aluminum frame which reduces weight and minimizes potential corrosion.
Next is a view of the dashboard. I have numbered each control on the dash.
left front windshield wiper

right front windshield wiper

roof-mounted beacon/strobe

forward running lights (headlights in front and brake lights in rear)

reverse running lights (headlights in rear, brake lights in front)

cab fan/defroster

engine hour meter

battery Amp meter

fuel gauge

ignition

battery power indicator (ready to start)

throttle

transmission ready to shift indicator

transmission shifter / transmission brake

choke

horn

brake
Per the instructions posted in the cab of the speeder, the transmission must only be shifted when the transmission brake has been applied my angling the shifting lever to the right. After applying the transmission brake you may shift out of neutral. This is done to avoid grinding the gears of the transmission. The bottom right button is for the horn and next the that is the choke.